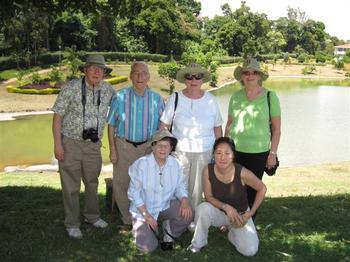 Larry Dittmar, back row with no hat, with a group of volunteer teachers on a January trip to Meru, Kenya.
Courtesy of Larry Dittmar
In January of 2011, Larry Dittmar, KUEF Board Chairperson,  took a group of great music educators from Michigan to Meru, Kenya for the purpose of starting a String Program in the Bishop Imathiu Primary School.  The educators included: Marilyn Kesler, Ann Schoelles, Bill Tennant, Andrea Yun, Anne Ogren and Geri Arnold. (See photo of group at left.) Geri also brought along three of her private Suzuki students, Eitan and Orly Rubinfeld and Lucy Fuller to assist by playing with and for the Kenyan violin students. 
The Ann Arbor based Shar Music Company donated 50 violins that the team took to Kithoka for the 135 primary students who received instruction.  Obviously these instruments had to be shared.  After six days of intensive work, these budding violinists performed a concert for their peers and adults in the community.  All who heard were amazed at the student's performance. It  demonstrated the skills gained by the students in such a short period of time.  Many of these Kenyan children are orphans, so it is a very special opportunity for them to have this program in
their school.  They have a great sense of appreciation for this good fortune that only their school has received.  After the team returned to America,
Anne Ogren stayed three more weeks to continue training students. 
KUEF plans to send additional string teachers  to Meru as these violinists progress.  Advanced students will switch to violas, cellos and basses, so an orchestra came be established.
Andrea Yun returned summer of 2011, spending several months developing the string program.
Read more about Larry Dittmar and the Meru Music Project in Annarbor.com news:
FAITH:

 Partnership with Ann Arbor teachers brings resources, passion of music to Kenya

Posted:

 Thu, Apr 14, 2011 : 5:55 a.m